| | |
| --- | --- |
| 7 March | Following a distress call received through the Alarm Phone, the Life Support (Emergency) rescues 105 people from a rubber boat fleeing Libya (1). |
| 24 March | After Alarm Phone forwarded a distress call from 190 people in distress, with the help of Louise Michel, the Geo Barents (Médecins Sans Frontières) is able to rescue the group from a wooden boat which departed from Libya (2). Directly after, Louise Michel heads to a 78-person boat which has been spotted by the civil aircraft Seabird 2 (Sea-Watch). Louise Michel is able to take everybody on board, even with the so-called Libyan Coast Guard trying to intervene (3). On her way north, the Louise Michel rescues two more boats which fled Tunisia. The boats had been found by Seabird 2 as well as Frontex, who sent out one of their very rare mayday relays. |
| 25 March | Life Support rescues 78 people from a rubber boat which departed from Libya. Alarm Phone received the distress call and had forwarded it to authorities and NGOs. |
| 26 March | Life Support rescues 83 people from two iron boats in distress on the way from Tunisia towards Lampedusa. |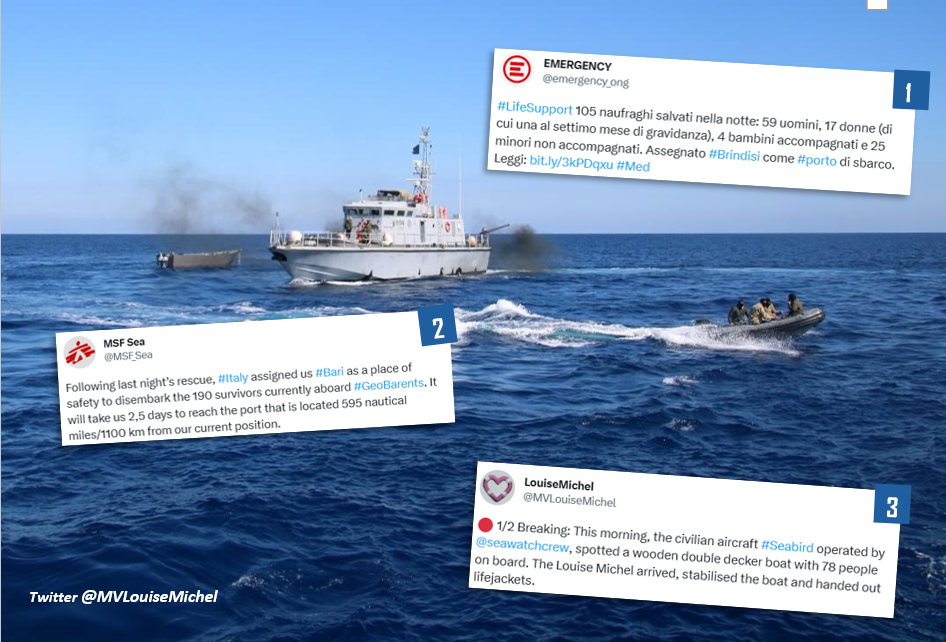 24.03.2023 – Civil fleet vessels and aircraft work together to rescue an overcrowded wooden boat with two decks
During the morning of the 24th April, Sea-Watch's aircraft Seabird 2 spotted an overcrowded wooden boat carrying at least 40 people without life vests, with the potential estimated by the aircrew that the boat could have been carrying more people within a lower deck. Frontex' Heron drone had also been observed approximately 1.5 hours earlier by Seabird's ground crew orbiting a position which would match with the trajectory of the boat in distress, though a rescue operation from authorities for the people in distress was nowhere to be seen at the time of Seabird's spotting.
Seabird's ground crew then informed the authorities as well as civil rescue vessel Louise Michel, which was at the time approximately 40 nautical miles away from the people. During the transit time of the Louise Michel, Seabird's air and ground crews monitored the situation, updating the vessel and the authorities, which as can sadly be expected, remained silent. As the Louise Michel arrived on scene, it was revealed that the boat in distress was indeed a highly dangerous double decked vessel, carrying 78 people, almost double the figure which Seabird 2 had initially counted on the vessel from the air, where among the people in distress were women, children and a baby. These types of boats are prone to capsizing when overcrowded and present rescue crews with a heightened risk, where the unstable vessels must be disembarked with extreme caution in order to prevent panic and loss of life. Carefully stabilising the situation on board of the vessel and handing out lifejackets, the crew of the Louise Michel then considered whether to wait for another larger civil rescue vessel, the Life Support, to also arrive on scene and begin embarking the large number of people.
The sudden arrival of a so-called Libyan Coastguard vessel on scene then caused a deterioration of the already tense situation, with the Libyan crews spreading fear and panic among the people. The Louise Michel crew, then, made the call to embark all the people from the boat, lest the Libyan vessel made any potentially lethal interventions or influences on the situation. Very fortunately given the scenario, all people could be safely embarked upon the Louise Michel without incident or loss of life, to be treated by the crew's medics before eventually being disembarked in the safe harbour of Lampedusa, Italy.
Even with the knowledge and presence of surface and air assets from authorities, the situation could well have again involved drownings, disappearances and human rights violations, had it not been for the operationality of two of the civil fleet's vessels and one of its reconnaissance aircraft, the only assets which can be trusted to operate within international human rights and maritime laws, and to intervene with the aim of upholding the safety and lives of highly vulnerable people
Published in Echoes#6