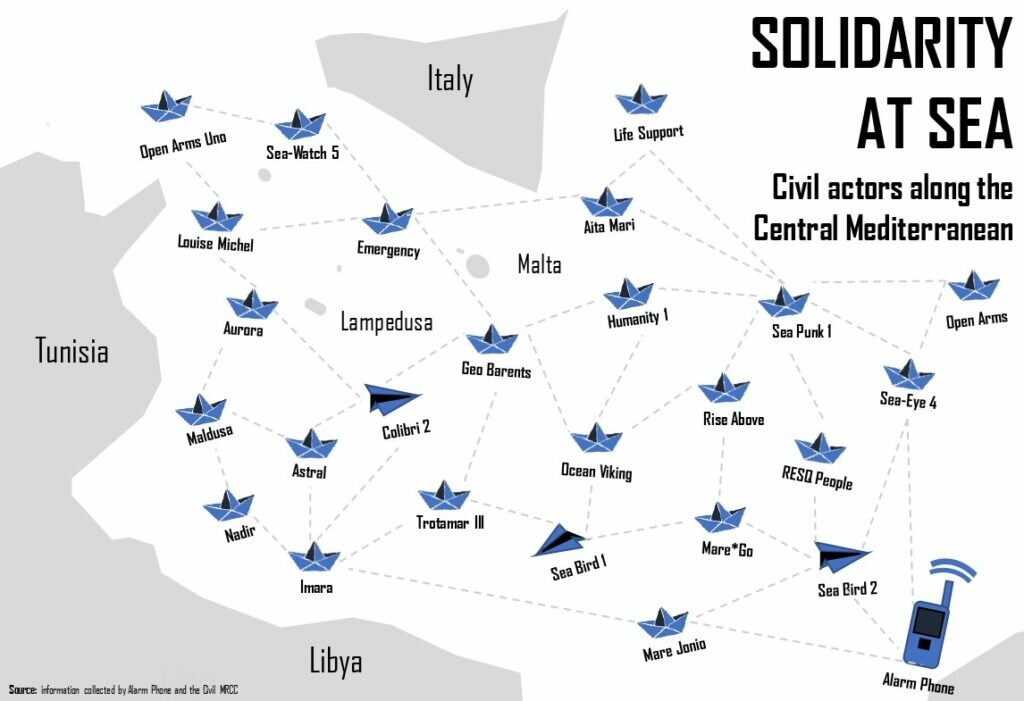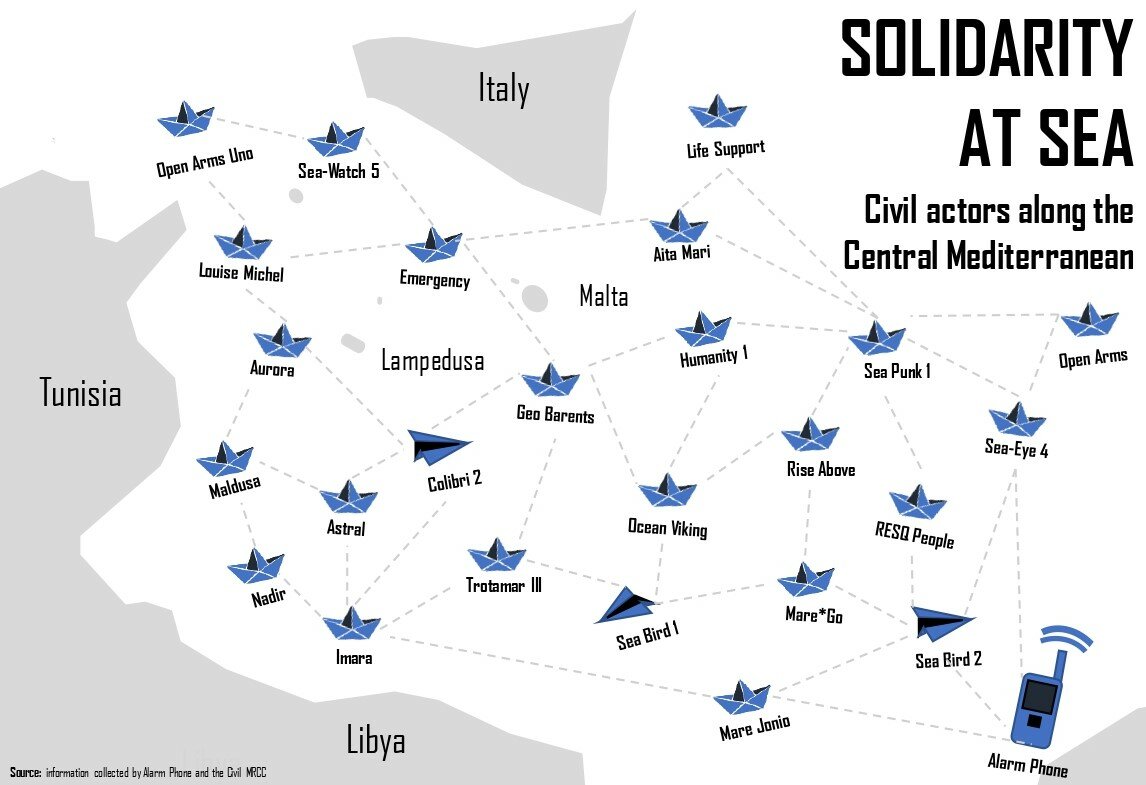 The Central Mediterranean Sea is among the world's deadliest borders.
Deaths in this area are not accidental. They are the result of policies, actions and omissions which are designed and financed and, sometimes, carried out directly by the European Union.
In Libya, people face imprisonment, torture, exploitation and violence. Many of them decide or are forced to risk their lives crossing the Central Mediterranean Sea to seek safety in Europe.
Since November 2014, Frontex Triton and Themis operations as well as the EUNAVFOR MED military Operations, Sophia and Irini, replaced the Italian-led rescue operation, MARE NOSTRUM. MARE NOSTRUM had been launched in the aftermath of the Lampedusa shipwreck of October 2013. These new operations were not focused on sea rescues but on fighting smuggling and human trafficking.
This left a rescue gap, so since then various NGOs have established and maintained a civil presence at sea through rescue vessels, a hotline for migrant people in distress and aerial reconnaissance operations.
Since 2015, cooperation with different state actors has deteriorated dramatically.
In 2018, EU-member states facilitated the creation of the so-called Libyan Coastguard and the 200,000m2 Libyan Search and Rescue Zone was established. This allowed the delegation of border controls and push-backs to Libya. They occur with the direct support of MRCC Rome. At the same time, MRCC Rome reduced their direct responsibility for rescues to a small belt around Lampedusa. In the Maltese Search and Rescue zone, RCC Malta and the Armed Forces of Malta delay rescues or refuse to rescue while they coordinate push-backs by proxy. Air surveillance by Frontex is used to guide the so-called Libyan coastguard towards boats that will then be captured and forced back to Libya. This way, Europe, Malta and Italy delegate their duty to carry out rescue activities in international waters, externalise EU borders and facilitate the human right violations committed by Libyan authorities.
In 2020 alone, the civil fleet rescued 3,700 people who fled from Libya, taking them to a place of safety in accordance with the Geneva Convention. The hotline, Alarmphone, supported 172 boats in distress in the Central Mediterranean carrying over 10,000 people. In the course of 96 missions, Airborne operations supported 82 boats in distress, carrying a total of up to 5000 people.
Legal framework and States' omissions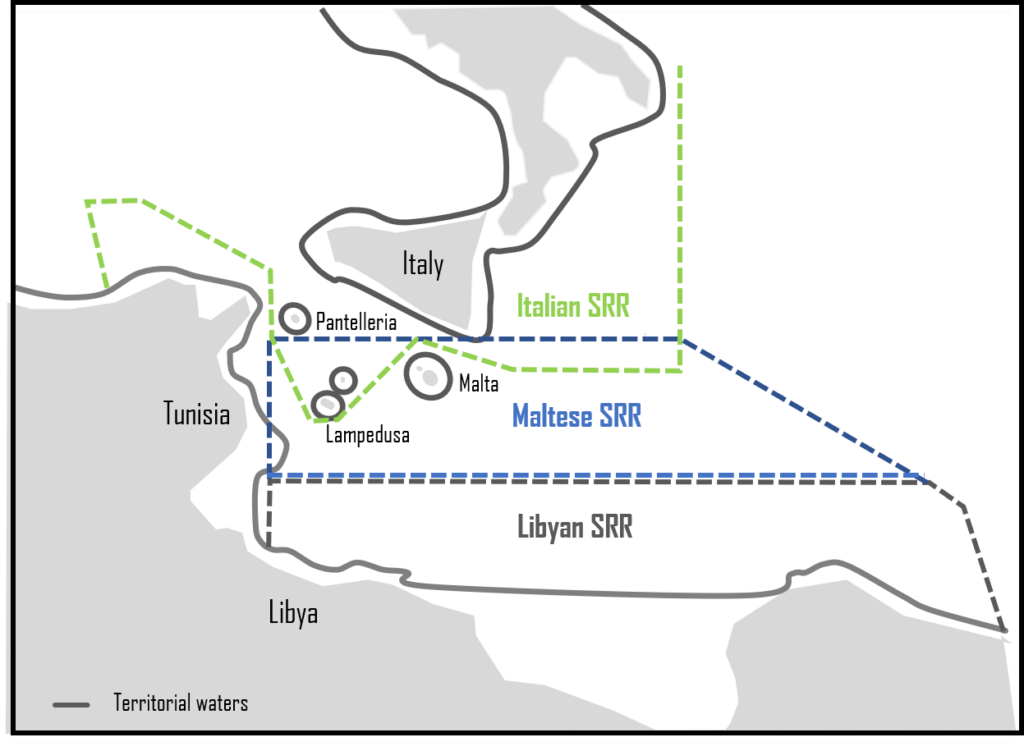 International and domestic legal frameworks include several obligations and principles which need to be fulfilled and implemented by States in any situation in which people who flee their countries are in distress at sea.
In fact, in order to prevent the violation of fundamental rights of people on the move, responses to migration by sea requires close attention to the points of crossover between asylum law, human rights law and the law of the sea.
Every shipmaster is bound by the longstanding seafarers' obligation to render assistance to anyone who is encountered in distress at sea. Starting from this basic and traditional principle, the international law of the sea is articulated around more specific rules and regulations which are meant to engage States and to ensure that public authorities fulfill their duty to coordinate and carry out search and rescue activities.
International conventions define the meaning and scope of "search and rescue (SAR) operations". It is well established that a SAR operation is concluded only when shipwrecked people are brought to land in a "place of safety".
Whether or not a proposed place of disembarkation does indeed meet the criteria to be a "place of safety" must be assessed on a case-by-case basis. During the assessment, fundamental principles of asylum law, including the principle of non-refoulement, must be taken into account.
The following sections provide an overview of the main legal issues which contribute to drawing the contours of (il)legality of European States' behaviours and policies concerning seaborne migration management. It will be carried out through the analysis of 4 main principles and obligations: (1.1) the duty to render assistance at sea, (1.2) the States' duty to organize and coordinate SAR operations, (1.3) the definition of a place of safety and (1.4) the illegality of the cooperation among the European Union, European States and Libya.
Newsletter
Donate
Credit
Logo by Adrian Coquet , CC BY