| | |
| --- | --- |
| 9 April | The sailing ship Nadir (RESQSHIP) attends to a shipwreck off Lampedusa and is able to rescue 22 people and to recover two bodies. Unfortunately, around 20 people also went missing (4). |
| 15 April | After Seabird 2 finds a rubber boat in distress, the Life Support as the closest vessel rescues the 55 people (5). |
| 19 April | Alarm Phone receives a distress call and forwards it to authorities and NGOs. The Humanity 1 (SOS Humanity) rescues the 65 people and disembarks them in Italy (6). |
| 20 April | The Ocean Viking (SOS Mediterranée) rescues 29 people in distress who had previously reached out to Alarm Phone. They had departed from eastern Libya and were in the midst of a 5-day ordeal towards Sicily (7). |
| 24 April | While the Geo Barents finds 75 people on a rubber boat, the sailing ship Astral (Open Arms) rescues 47 people from a sinking iron boat (8) (9). |
| 26 April | The Nadir rescues 40 people from an iron boat and disembarks them in Lampedusa. |
| 27 April | The Astral rescues 38 people in distress who had fled Tunisia, as well as assisting another two boats which were finally taken care of by the Italian Coast Guard (10). At the same time, the Ocean Viking rescues 15 people who had departed from Libya. |
| 28 April | After the Alarm Phone receives and forwards several distress calls to authorities and NGOs, the Ocean Viking is able to rescue 153 people from three different boats (11). |
| 29 April | After Seabird 2 spots 34 people in distress, the Life Support rescues the group and disembarks everybody safely in Italy. |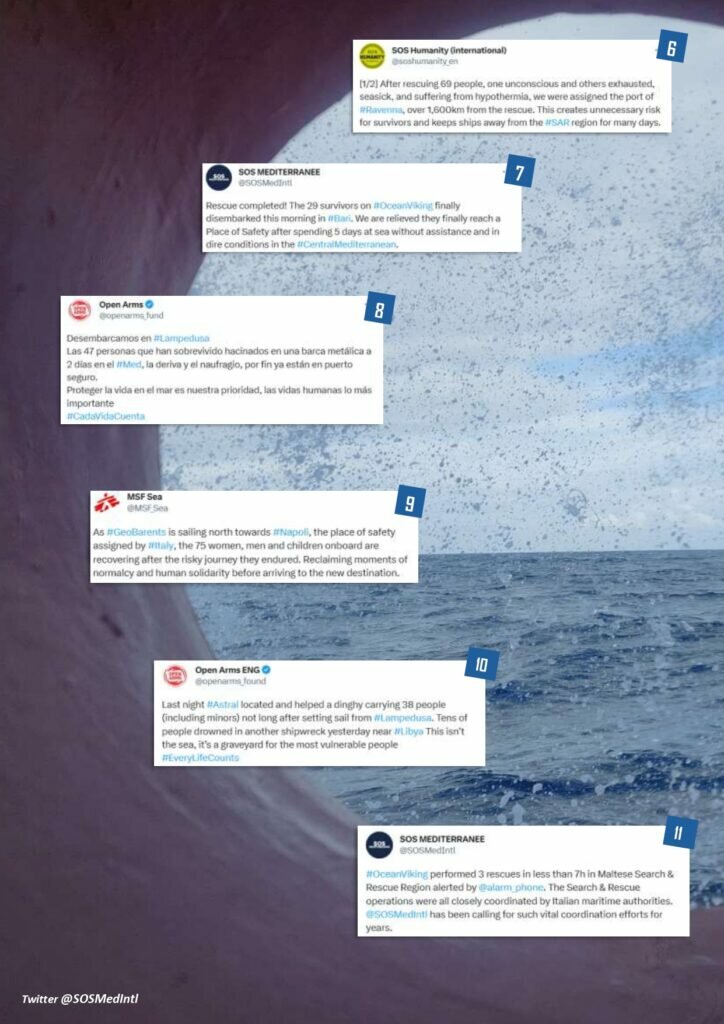 09.04.2023 – Several survivors of a shipwreck off Lampedusa are rescued by a civil fleet vessel
In yet another tragic and wholly avoidable scenario, three people lost their lives and several others are feared dead after a boat carrying people on the move was shipwrecked off Lampedusa, Italy.
Had it not been for the intervention of an operative civil fleet vessel however, the outcome could have been yet more profoundly deadly. After being alerted by an Italian Coast Guard patrol vessel during the night, the civil fleet sailing vessel Nadir was able to arrive at the scene of a shipwreck involving around 40 people, finding multiple people in the water and undertaking emergency rescue action and medical treatment for the survivors. 22 people were ultimately saved and embarked upon the Nadir, including a pregnant woman. It is feared by the vessel's crew, however, that at least 20 more people drowned as a result of the incident.
Sea-Watch's airborne operations ground crew were able to track the Frontex light aircraft Osprey 3 performing a search operation in the area of the tragedy during the morning, however the actions of the authorities are all too often too little and too late in light of the continuously lethal conditions in the Mediterranean region for people on the move.
As we continue to maintain within the civil fleet, the central Mediterranean urgently requires a Europe-led rescue programme involving air and surface assets, operating with the primary aim of upholding the right to life and other international conventions, in order to avoid further human catastrophes such as this one which continue to take place every month on the water.
Article published in Echoes#6