Latifa, Chamseddine and Slah are three Tunisians affected differently by the EU border regime. Each of them has particular ways of struggling against borders through their work and their daily lives. These interviews were collected in Zarzis by the CMRCC research and follow-up team.

Latifa
Latifa, sister of Ramzi (missing since 2011) and member of the Tunisian association "Mothers of The Missing", sheds light on how the association decided to self-organize as mothers and sisters of their loved ones back in 2016, and the work that they have been engaged in since then.
How was your association created? With what purpose? With what demands?
My mom Fatma was part of another association that never supported us in anything, so she decided in 2016 to create her own association and support the mothers who are looking for their children. The goal of our organization is to search for our siblings and children that went missing at sea. We also try to support families with lawyers or try to find solutions for the families to access free health care, because many families do not have any income after their sons or their husbands disappeared and are totally left alone in a very difficult social and economic situation.
Why did you name the organization "Mothers of the Missing?" Why did you choose to get visibilized as women?
From my experience, it is in general the mothers and sisters who are mostly affected and who never give up from searching. It doesn't matter whether in Tunisia or other countries, it has always been the women who are on the front-line, always present in the protests, always ready to move around the world to find any trace of their loved ones and having the courage and the strength to continue the struggle.
At the beginning we wanted to name our association "The Cry of Mothers" because no one could ever feel the pain of the mothers who have suddenly lost their sons.
What has been the support of the authorities in your search and reparation procedures?
The authorities have never helped with anything, they keep on making fake promises since 2011, they do not even support us with visas for Italy, DNA tests or lawyers, we have to count on ourselves and work together and be united, be supportive to each other.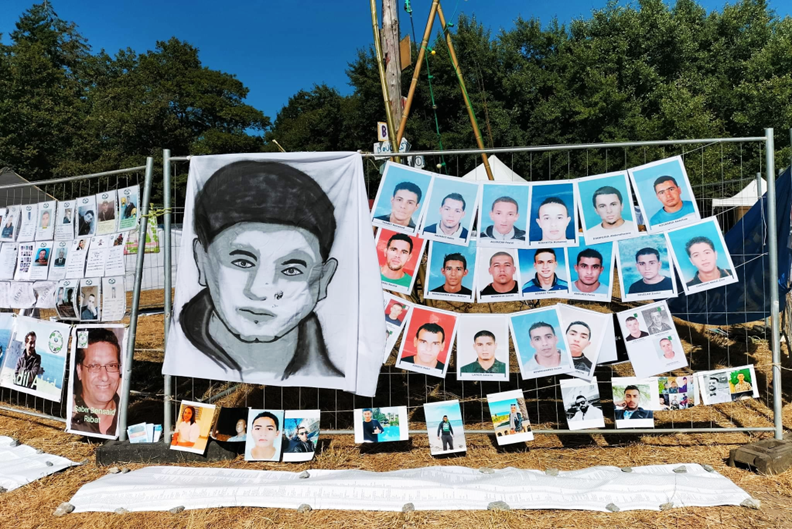 Latifa, CommemorAction wall in the Transborder summer camp II, July 2022
Slah
Slah, a fisherman from the city of Zarzis in Tunisia, opens up about the impact of the EU militarization of the Central Mediterranean on his work as a fisherman, also speaking about his daily engagement in rescuing people since the 90s.
To what extent are you, as a fisherman in Zarzis, affected by migration and the border regime?
The agreements between Libya, Italy and Malta to increase border control are on the shoulders of the fishermen. Our fishing zone has been reduced and Libyan militias have controlled it more and more. The biggest mistake that was ever made was to have the Libyan militias as the traffic police in the Central Med.
Since 2016, we as fishermen are witnessing the deaths and atrocities they inflict on the migrants at sea, and we ourselves are also having our boats and goods stolen, being kidnapped and imprisoned and only being freed when we pay them.
How do you deal with bodies found at sea? With people in distress? Do you have the support of the authorities?
We are very often left alone in rescuing people, sometimes without any support from authorities for 20 hours or even more. We are obliged to conduct the rescues ourselves – it's a humanitarian obligation and we have been doing this since the 90s. The first thing we do is to get the people on board. We give them food and water and we call the rescue centers.
This is our culture and our duty: as fishermen we cannot let people drown! Even with the few capacities we have and even if we often have to throw away all the fish we have after a rescue, human life is more important than any money, it is irreplaceable!
How do you think we can ensure that the sea is no longer transformed into a graveyard?
The situation cannot stay this way. The more years pass by, the more people are dying and the more people go missing. The EU has to take responsibility and evacuate the people little by little as a first step. But at one point, we should reach a world without visas. It is possible but there's no will from the governments!
Rescue of a boat of people in distress by the fishermen of Zarzis, Association "the fisherman" for development and environment
Chamseddine
Chamseddine Marzoug, a former Tunisian fisherman shares his own experience, since 2011, in burying "with dignity" people on the move that have lost their lives along Zarzis coasts
How did the idea of opening cemeteries for the bodies of migrants found off the coast of Zarzis come from?
In Zarzis, we have been dealing with deaths since the border regime of the EU has been implemented. In 2002 it was amplified but during a dictatorship we were unable to speak-up against these deaths and we were unable to do anything.
In 2011, with the revolution and the establishment of the Choucha refugee camp, we asked authorities to give us a piece of land to bury the people that were found on the coasts of Zarzis. They only gave us a space where they were discharging garbage… I have cleaned it up, prepared the sand and have started burying corpses that are found on our coasts.
What is the impact of all these bodies found in Zarzis on the inhabitants of the city?
The people in Zarzis are accepting and are open to have cemeteries for people who lost their lives because of the deadly border regime. They are also supportive and never had problems with it. As for me, it is hard work: you cannot recognize the people, the corpses are decomposed… You have to bury them with respect to their bodies, their lives and their loved ones.
Do you receive support from local authorities?
There was no support from authorities, they never gave me a proper piece of land or any financial support. There were normal administrative procedures such as giving the authorization to bury the people but other than that, we do this work alone and with our own capacities and donations.
Who visits these places and for what purpose? Have you ever received visits from families?
I remember 2014 when B., a Syrian producer living in the Netherlands, came to the cemetery looking for her sister Maysoon. Maysoon was on a boat carrying 480 people that was shipwrecked near Ben Guerden and only 120 persons survived. I informed her that the people that have been identified or found on the coasts of Tunisia were all buried near the Ben Guerden port. The mothers and sisters from the "Association of the Mothers of Missing" in Tunisia have visited the cemetery in Zarzis in 2022. They were also asking if there was a chance that one of their sons was there.
This to mention a few of the experiences I had with families of missing people. Each time, it is very emotional and touching to have them present, asking many questions for which unfortunately, there is no answer.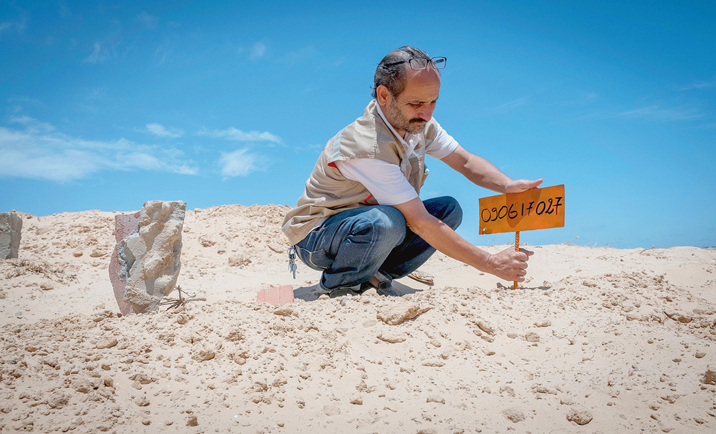 Chamseddine in the "Cemetery of the unknowns", Mohsen Lihidhed