Notes from Trapani
by the Iuventa crew
During 2016 / 2017, the rescue ship iuventa was part of the civil fleet. It was a practical political intervention in response to the EU's left-to-die policy. As a response to her contribution to rescuing more than 14,000 of people from drowning in the central Mediterranean Sea, the Italian state launched an extensive investigation, which included undercover operatives, wire-tapping of phones, ships and houses and also the surveillance of journalists, lawyers and clergy.
These investigations became internationally known in August 2017, when they led to the seizure of the iuventa and escalated again in 2021, when charges for "facilitation of unauthorised entry into Italy" were brought against 21 individuals, crew members of 3 rescue vessels (iuventa, STC, MSF), and a shipping company (VROON). The prosecution alleges that these rescue operations were neither carried out in response to distress at sea nor to save people from suffering and certain death. They claim to have evidence that proves direct collaboration with smugglers and direct transfers at sea, with the sole intention of facilitating the entry of people into Italy.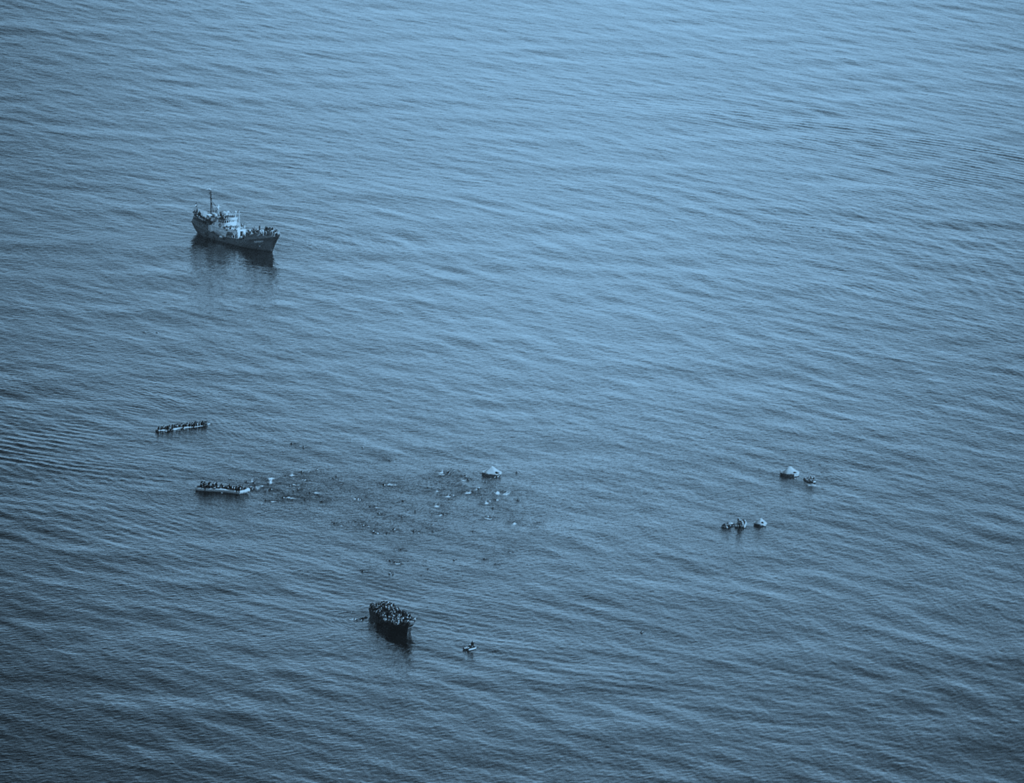 Picture: Iuventa rescue operation, @moonbird, 2017
Part one: Missing courage
On the 21th of May 2022, we finally faced our accusers in a preliminary hearing at the Court of Trapani, where we had to learn that the judge did not show the necessary civil courage to stop the proceedings. 5 years after the seizure of the vessel, there was no intention to deal with the core of the matter – the urgent conclusion that sea rescue and other forms of facilitation  of flight cannot be a crime because flight and migration are not a  crime. Not a single word was said about the long overdue and urgent release of the confiscated rescue equipment or even the rehabilitation of the defendants and their cause. It was exclusively about cleaning up the sloppy work of the investigating authorities and the public prosecutor's office in order to finally let the trial start.
The same prosecution that had successfully coordinated five different police agencies, including anti-mafia units and intelligence services, to disable an urgently-needed rescue ship, failed when it came to justifying why it had done so. They even failed – or just didn't care – to inform all us defendants about our own charges, which will not only keep us trapped in an absurd court case for several years, but could end with up to 20 years in prison.
Nevertheless, we have achieved small "successes" over the past months.Pushing legal boundaries: A group of international trial observers, who were initially denied access to the first trial, are now allowed to monitor the upcoming hearings. We see them as an important agency of civil society. They will observe and report, making relevant processes visible and thus laying the basis for assessments, evaluations and interventions.
Wave of solidarity: Despite state repression, there were incredibly uplifting moments in the public space! We defendants were not alone! Support groups from all over Europe were called for solidarity on the ground on the day of the first hearing – a rally in front of the court as well as actions and demonstrations in many European cities took place. All over, there were people linking their struggles to the iuventa case and relating to its experiences , thereby showing that the fight for solidarity at sea is not isolated, that it has its roots in many different realities of resistance!
Part two: They are in no hurry, they couldn't care less
29th of October 2022: We are back in Trapani, and once again a hearing had to be postponed … and not because of unexpected occurrences, the lacks of new findings, or even a change in the policy of criminalisation of solidarity – no, once again a defendant was not properly invited to a meeting relevant to the proceedings, once again the sloppiness and ignorance of the public prosecutor's office led to a delay of the trial. This is how easy it is to keep a trial alive, at least for the sake of maintaining the chilling effect on society.
However, while we have to grapple with the accuracy of postmarks, names and addresses, at least we can move freely, organise and fight back. But countless people on the move have to wait in prisons for their trials to be conducted. According to the recent report "From Sea to Prison" by ARCI Porco Rosso, Alarm Phone and borderline-europe, Italian police have arrested more than 2.500 people on charges "facilitating unauthorised entry" since 2013. The report "Incarcerating the marginalized" by Aegean Migrant Solidarity, Deportation Monitoring Aegean and borderline-europe, shows how people on the move charged of "facilitating irregular migration", estimated at 1.900 in 2019, spend months in pre-trial detention; and when their case eventually goes to trial, the conviction is determined in very short procedures (the average duration is 38 minutes). The majority of defendants are convicted and sentenced to life imprisonment (the average sentence 48 years).
They who had to flee or to migrate themselves, they who survived the so often deadly crossing and this time were lucky enough to slip through the push-back-by-proxy machinery. They are the real people behind the "success figures" of the authorities' fight against smugglers. The accusations are just as bogus, the hearings just as absurd as ours. But they have to wait behind bars for a guilty verdict that was actually handed down long before they were arrested. They have to serve as scapegoats for the deadly EU border regime, while the only responsible is instead the EU, unwilling to offer legal and safe pathways. They just disappear behind the official statistics … just like those who lose their lives in the Mediterranean mass grave.
Part three: #NoTranslationNoJustice!
Today, we are experiencing another facet of class justice, whose impact the most marginalised, but is an attack on all of us: The denial of adequate translation and substantial interpretation. This is a hurdle that foreign language speakers face, as their right to effective participation in their own proceedings is systematically denied by authorities – from the first contact with police up to the prosecutors and judges.
Today, an interrogation of one of our defendants could not even enter into the merits of the case and had to be stopped after a few minutes. The quality of the interpretation was completely inadequate to clarify essential questions in a criminal case that could potentially end with up to 20 years imprisoment and fines in the millions. The interpreter, although officially registered, lacked even basic legal vocabulary. Our defence criticised the quality of the translation. The answer: "We have looked everywhere but have not found anyone who wants to do this job, the pay is simply too bad".
While we, the iuventa defendants are in a privileged position that guarantees us strong legal support and the necessary socio-ecoonomic means to make the violation of our rights public, this is not the case for the majority of foreign defendants. If a qualified interpreter can't be found for an EU language such as German, the situation is even worse in cases where the accused speaks a non-European one. People on the move in particular, have been convicted in their thousands in Italy in recent years for "aiding and abetting unauthorised entry", based on witness statements, signed documents and court hearings where adequate translations and interpreters have systematically not been provided.
This is not only a systematic violation of a basic right granted in the European directive "EU law (dr 2010/64)". This is to be understood as another facet of EU's lawfare against people on the move, and another wall of Fortress Europe against which people are supposed to fail. That is why we must and will continue. Even louder, even more resolute. We have to show that our Solidarity And Resistance will not be intimidated.
We are launching a campaign, calling on others to share their experiences under the hashtag #NoTranslationNoJustice in order to show the extent and manifold effects!
                                          iuventa-crew
Picture: 21.05.2022, solidarity in front of the court, @iuventa, 2017
Website: www.iuventa-crew.org
Socialmedia: iuventacrew