The criminalization of boat drivers in Italy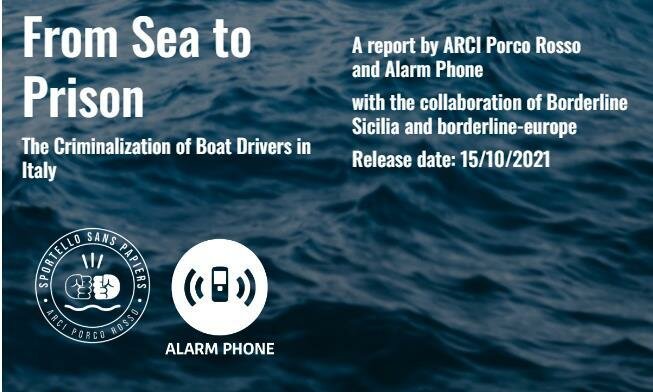 ARCI Porco Rosso and Alarm Phone
The criminalization of migration has been an important element in the context of the EU's cruel border policies. A growing awareness of the scale and importance of this punitive political and legal strategy has led to increasingly structured efforts at understanding and finding ways to resist it. In Italy, the report "From Sea to Prison", published in October 2021 with the support of Alarm Phone, showed that over the past decade, Italy has arrested thousands of people in connection with driving migrant boats across the Mediterranean Sea. These arrests often happen soon after disembarkation, and the trials that follow are often based on insubstantial evidence.
While in prison, boat drivers' (who self-define as Captains) rights are often overlooked: contact with families is often non-existent, there are almost no translators in the Italian prison system, and access to adequate defense is not protected. Finally, even once they are released from prison, Captains have to face a number of consequences even if the charges are dropped, such as a higher risk of deportation and disadvantages in their asylum requests. Captains are criminalized for helping themselves and others cross the border, and saddled with the responsibility for the violence and death that occurs at Europe's borders, which is a direct consequence of the EU's policies.
These and other findings, which are detailed in the report, led the people who conducted the research to form a working group that focuses primarily on supporting criminalized individuals.
Based in Sicily and composed of people from the Arci Porco Rosso collective, and the organizations borderline-europe and Borderline Sicilia, over the past six months this group has been working on a number of aspects. It has been offering socio-legal support to people being criminalized for boat driving in Italy, during detention and after release, providing spaces that could bring together and amplify the stories and voices of the Captains; raising awareness about the criminalization of migration in local networks around Italy and connecting with other groups transnationally, and finally working to prepare the grounds for stronger advocacy and campaigning efforts in Italy. You can find two quarterly reports for March and June 2022, published on Borderline Europe's Website:
https://www.borderline-europe.de/