Interview with David Yambio from Refugees in Libya
On the 9th and 10th of December 2022, a press conference, a protest and a demonstration with up to 300 participants took place in front of the UNHCR headquarters in Geneva. The transnational network in solidarity with Refugees in Libya had organised this mobilisation. We talked with David Yambio, spokesperson from https://www.refugeesinlibya.org, about the action days, his expectations, and his perspectives.
David, in July 2022 you could escape from Libya to finally reach Italy by yourself. As spokesperson for Refugees in Libya in Europe, you are in a new role now. How do you see it, how do you feel in it?
I see myself in a new stage of another responsibility, and a new space where I am able to do as much as I can to change the things that I couldn't change in Libya. For the people in Libya, that have been longing for recognition for a number of years. Arriving in Europe also comes with a lot of new challenges to engage myself in, to commit myself in different spheres. It is mainly in the field of media and on a political level, to amplify the voices that have been silenced for quite a number of years.
If I go now through peaceful streets in Italy or Switzerland, I feel bad about it, because I really wish that there could be a peaceful world for everybody, for the people in Libya, and even in the countries of origin. That we have a new world where people are not dehumanised like what is happening in Libya.
So my new life comes with different ups and downs. It also comes with the challenge that for the first time in my life I can follow my dreams and to find my personal life. A challenge to master these various roles and to try to make the movement more stronger.
You have been one of the driving forces for the protest in front of the headquarter of UNHCR in Geneva on the 9th & 10th of December 2022. Can you sum up your main motivations for these action days?
The motivations are very clear when I look at the circumstances under which we were fighting, where we were peacefully protesting. We were calling on the United Nations, on the UNHCR, on EU member states to recognise us, we even called on the Libyan or the Italian state to make sure that we are not treated inhumanely, but yet we were silenced. We were not listened to in front of the UNHCR office in Libya.
For 100 days we were ignored. That is why we decided to amplify the voices of our protest by bringing our demands from Tripoli to Geneva. I saw it also as an opportunity to confront the rich, the European politicians, and the European public.
In November last year, the new website http://unfairagency.org was established as part of the mobilisation to put pressure on UNHCR. Can you explain the idea behind this new platform? And how do you want to continue with it?
The new website was and will remain an element of our mobilisation to put pressure on the UNHCR. We want to confront this institution with the real stories and experiences of refugees. The UNHCR has to stand up to their mandate and to protect the people who need their support and advocacy. This was the main idea, why we initiated the UNFAIR platform. Because UNHCR has been very unfair to the same people who had so much hope in them.
The situation with the asylum process in Libya is very corrupt. It's very unfair, because people have to undergo a process with years of waiting, up to 20 years. Only to be accepted for asylum. Against this background, most people see no alternative than to take a boat and to find their way crossing the sea. And so many are dying. So we thought that it was necessary to confront and to shame UNHCR with this context.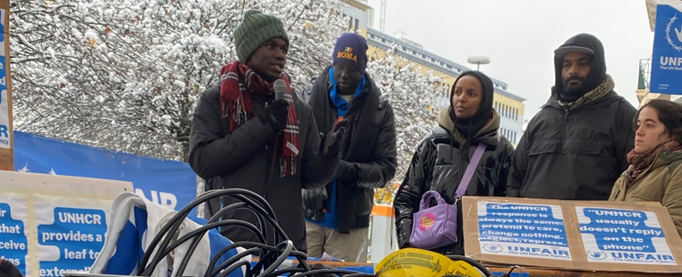 Picture: UNFAIR CAMPAIGN
What is your evaluation about the concrete action days in Geneva? Did it match with your expectations? What went well, what went not so well? 
It met my expectations that we could bring our voices in front of the UNHCR headquarters in Geneva. We also could start a negotiation with a UNHCR representative, we could put our demands on the table. And it worked to amplify the voices from Tripoli to Geneva: to Swiss local people, to civil societies, to institutions, and to the radio, newspaper, television channels and media that operate within the Swiss territory and beyond in other European cities.
It went well, because we met local people, we were able to tell our stories, to tell what has been happening and about the need to address these problems and to find durable solutions.
On the other hand, we expected more people to join the protest. At least a few more hundreds of people to come and show solidarity with people on the move, with the people in Libya, with the people who have been arbitrarily detained. But in reality, only about 300 have managed to come to the demonstration through the city. So I wasn't very happy, because when we are talking about life at least, and the challenges that people face, which are the immediate consequence of EU policies, and which each European citizen is complicit in. This is what they need to understand. And when we as refugees call for mobilisation, when we call for a protest, when we call for a time to amplify the voices from Tripoli to Geneva or from the Maghreb region to Europe, people should really show up. The people in Europe should really put more effort to understand what is happening beyond their borders and to show more solidarity.
What do you think about the impact of the campaign until now? Do you feel that UNHCR in Tripoli changed anything? And a representative of the UNHCR headquarters in Geneva received you as a delegate of the protest. Do you have any hope in or expectations from the negotiations?
Until now, based on the reality on the ground, not so much has been changed. But what they did is that they already changed the militias, the guards who were always torturing and brutalising people in front of the UNHCR office when they needed to access the premises. So they immediately changed these policemen, police militias. And also some of their staff, who have been accused of corruption.
We hope that with the new year, they will implement more of the demands that we requested, which is already in their mandate. This should be the impact of the campaign, after they were willing to negotiate with us, even responding to our emails on different individual cases.
We will keep this channel as an open and continuous negotiation to discuss the problems that people are facing in Libya to this day, and we hope that it can bring change to the situation. For the people who are in Libya and across the Maghreb region.
Do you plan to continue the campaign on UNHCR? What might be the next steps? Any plan for another mobilisation in Geneva?
The continuation of the campaign against the UNHCR is necessary in a centralised and decentralised way. If nothing changes for refugees in Libya, we will continue to knock on the door of the UNHCR headquarters and to launch a follow up mobilisation in Geneva. In parallel, we should organise protests in different cities. Of course, it depends on the situation in Libya and we will move accordingly in Europe.
The UNFAIR campaign on UNHCR is one element of the activities of the transnational network "Solidarity with Refugees in Libya". Can you describe the wider frame? And in which way is the campaign interconnected with your daily struggles and to directly support friends in Libya?
The Solidarity Network with refugees in Libya was created during our protests in Tripoli, when we were in front of the UNHCR headquarters. And the idea was to bring also the European civil societies together, not only within one city or within one state. But to spread our demands in different European cities. Sea rescue organisations, different human rights groups, people that are focusing on the field of migration: the idea was to bring them together. To mobilise also lawyers and different political institutions, which negotiate with the European policymakers. Our intention is to change what is happening in Libya, to change the agreement between Italy and Libya and to advocate for the evacuation, a safe passage for the people who need this.  
We ask for more humanitarian corridors from Libya, while food and water, financial and medical support are needed and should be provided by UNHCR.
This would be a big and great support for the people on the ground in Libya.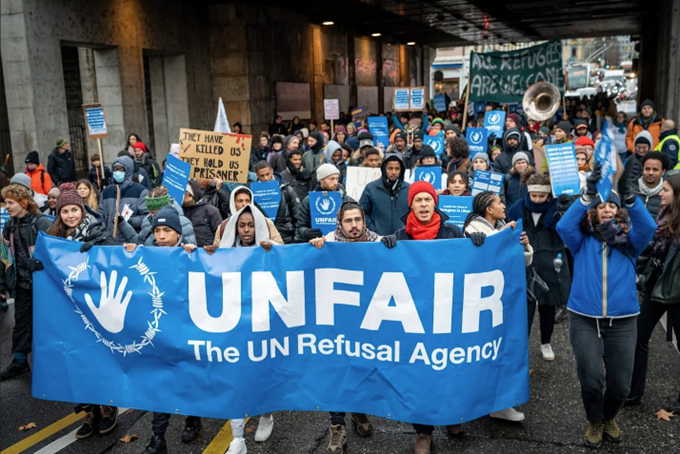 Picture: UNFAIR CAMPAIGN
What is your hope and the potential development for "Refugees in Libya" and its support network for 2023? What could be concrete achievements in the next months? What are the focal points for you this year? 
First of all we need more recognition. We need our stories to be valued in a wider public. Of course, we are hoping for further concrete achievements, for example that more prisons – the detention camps throughout Libya – will be closed. Or that the agreement between Italy and Libya will be cancelled, while the people can find a legal path to migrate. Or that sea rescue organisations can continue to operate under normal circumstances without being criminalised by the Italian state. It is our duty as refugees in Libya to tell the world that solidarity is not a crime and should not be criminalised. And that migration is a fundamental part of human nature.
We need the European Parliament in Brussels to recognise us and to give us a negotiating table where we can sit and discuss with them. The changes that we want, why we want to be recognised, why we want to be heard as part of this decision making once they are talking about immigration.
Thank you very much David for your answers and comments!
More information: http://unfairagency.org