2 February

Seabird 2 finds 31 people in distress and the Sea-Eye 4 (Sea-Eye) rescues the group. The boat departed from Tunisia and drifted at sea for 6 days before they were found. Unfortunately, 3 people didn't survive the journey. FRONTEX was also on scene, but didn't communicate with anyone in the vicinity about the boat.

3 February

Alarm Phone receives a distress call and forwards it to authorities and NGO's in the vicinity. The Sea-Eye 4 rescues the 78 people. After the rescue, Italy orders the ship to disembark the survivors and the bodies on board 1000 km away in Northern Italy. At the captain protest, a port of 500 km distance gets assigned (7).

13 February

The Geo Barents spots a wooden boat carrying 48 people which departed from Libya. Everybody gets transferred on board safely.

14 February

The Ocean Viking rescues 84 people from a rubber boat. The group reached out to Alarm Phone earlier (8).

15 February

The Aita Mari (Salvamento Maritimo Humanitario) spots a group of 31 people fleeing Tunisia. Alarm Phone was alerted by worried relatives of the group about the boat (9). As in Tunisia satellite phones are illegal and forbidden to sell, people leaving Tunisia by boat normally don't have the chance to carry life-saving communication devices with them.

16 February

The Life Support (Emergency) rescues 46 people who departed from Libya in a wooden boat.

17 February

A second boat carrying 107 people gets spotted and rescued by the crew of the Life Support (10).

21 February

The Aita Mari rescues 40 people from an iron boat fleeing Tunisia.

26 February

A boat with more than 200 people capsizes 20 nautical miles off the coast of Crotone, Italy. 67 bodies were recovered while more remain missing. The Italian Coast Guard knew about the unseaworthy boat already the day before.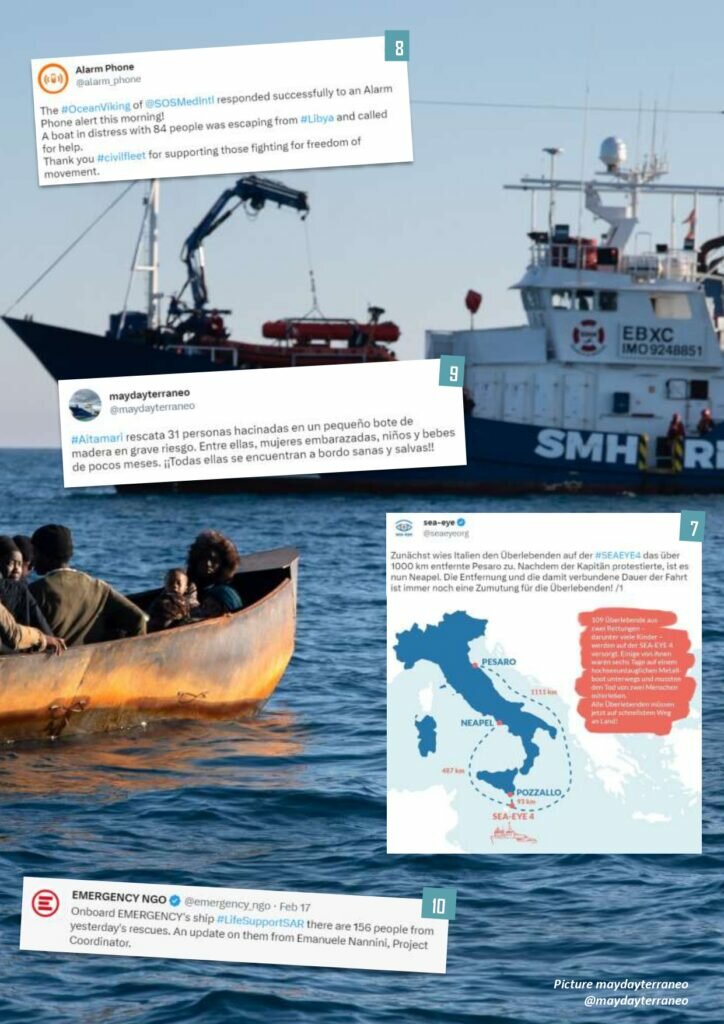 Article published in Echoes#5