The case of the El Hiblu 3  four years on
Abdalla, Amara and Kader still face injustice in Malta. Over four years ago, on 28th March 2019, they had arrived on the merchant vessel El Hiblu 1, whose crew had rescued over 100 people in distress at sea. The three, now known as the El Hiblu 3, helped defuse a volatile situation on board the merchant vessel. When the captain attempted to return the rescued to Libya, they acted as translators and mediators between scared passengers and a scared crew. Four years later the El Hiblu 3 are still stuck in legal limbo, facing nine preliminary charges, including those of hijacking a vessel, threatening its crew and engaging in terrorist activities.
In order to denounce this incredible injustice and to celebrate the bravery of Abdalla, Amara and Kader, Maltese and international supporters recently gathered in Malta for the fourth anniversary of the El Hiblu 3's arrival to Malta. Over the weekend of 25th-26th March 2023 several events were organised – including a press conference in front of the law courts, where David Yambio from Refugees in Libya spoke powerfully about the collective struggle against the violence refugees experience in Libya and while moving toward Europe. He called for the trial against the El Hiblu 3 to be ended: "One of the three has become a father and he takes responsibility for taking his child to school and providing for her – those are not the actions of a terrorist." In her speech, President Emeritus Marie-Louise Coleiro Preca also highlighted the cruelty of subjecting three innocent young men to years in legal limbo, stating: "When they arrived in Malta, two of them were still children, but they were treated like criminals, and thrown into prison. Like any other children, they deserve to live peaceful lives and have their rights protected."
The events received considerable press coverage in the Maltese press, including in the Times of Malta, Malta Today and in Maltese-language media outlets.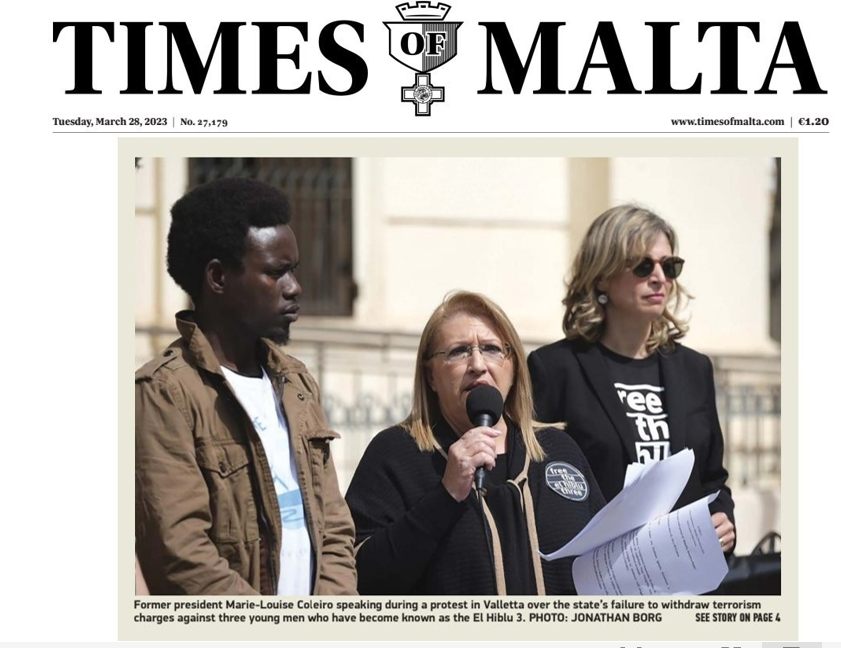 Article published in Echoes#6